The Salvation Army Boys and Girls Club of Newark Ironbound
The Salvation Army Boys & Girls Club of Newark Ironbound
11 Providence Street
Newark, NJ 07105
Phone: (973) 344-2698
The Salvation Army Boys & Girls Club of Ironbound is an institution that provides help to young people. We offer programs such as Youth for Unity, Smart Moves, Passport to Manhood, Club Service and Career Launch. We also provide after school programs, camps, senior activities and sports organization activities. Sports include boxing, soccer and dance. All services are funded by the local community and state. We accept donations, and volunteers are welcome.

Captain Rafael G. de Almeida Viana - Corps Officer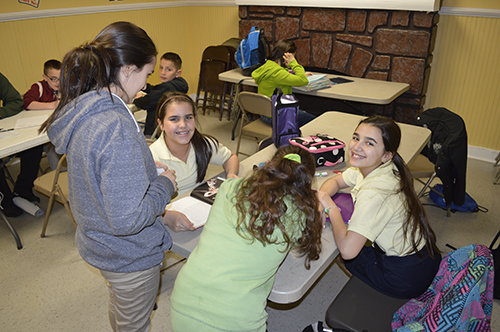 After School Program
Highlights include:
Homework help
Transportation
Dinner/snack
All day camp on most school day closings
Arts & crafts, sports and other recreational activities
Counselors are First Aid & CPR Certified
We accept Programs for Parents and other Public Assistance Programs
Bi-lingual counselors available
Keystone: The Ultimate Teen Program
This unique leadership development experience provides opportunities for young people ages 14-18. Youth participate, both in and out of the Club, in activities in three focus areas: academic success, career preparation and community service. With the guidance of an adult supervisor, Keystone Clubs aim to have a positive impact on members, the Club and community.
Torch Club
Torch Clubs are chartered, small-group leadership and service clubs for boys and girls ages 11-13. Torch is a powerful vehicle through which Club staff can help meet special charter development needs of younger adolescents at a critical stage of their lives. Torch Club members learn to elect officers and work together to implement activities in four areas: service to Club and community; education, health and fitness; and social recreation.
ZClub
A musical group that specializes in "Glee-like" performances aimed to broadcast songs ranging from show tunes to today's chart topping pop hits. Training will be in areas such as basic vocal and musical theater techniques as well as workshops to enable members to feel more confident on stage.
Hip Hop Dance Class
Our fun and exciting Hip Hop Dance Class is dedicated to educating children in the art of Hip Hop Dance. Children from beginners to advanced will learn various aspects of dance including technique, choreography, proper etiquette, terminology and musicality.
Archery Club
Archery is for children ages 10-18. Our trained and certified staff will instruct members on Archery equipment, safety and shooting. All skill levels are welcome to register in this fun and challenging club. Equipment will be provided. Staff is USA Archery Certified.
Ironbound Soccer Club
Ironbound Soccer Club was established for the specific purpose of developing a competitive youth soccer program whose goals are to achieve state, regional and naional soccer championship titles, as well as developing players capable of receiving college scholarships based on their playing ability and academic achievement. Realization of these goals must be accomplished within the proper framework by instilling character, self-esteem, confidence and sportsmanship within the youth athlete.
If you have specific questions, feel free to email us at ironboundsclub@aol.com
S.M.A.R.T. Girls (Skills Mastery And Resistance Training)
For girls ages 8-17: Learn about health and fitness, prevention and self-esteem. Designed to help girls reach their full potential!
To join the SMART Girls Training, call 973-344-2698
Passport to Manhood
Educating young men ages 11-14. A club that teaches responsibility, instills important values and reinforces positive behavior.
Martial Arts
Training in the arts of self defense, fitness and discipline with Sensei Victor. Our Martial Arts program continually has open enrollment. We pride ourselves on the fact that our members not only learn self-defense, but we also teach mental discipline, structure, fitness, character development and self confidence. Classes meet on Tuesday 6-9pm, Thursdays 6-9pm and Saturday 10am-12pm.
Senior Center
Our Seniors make a remarkable team! There are many things to do at our club! During the hot summer months, you can sit in our air conditioned facility and enjoy arts & crafts, a round of Bingo or just chat with friends over a good cup of coffee and a hot lunch. On those cold winter days, keep warm and get cozy enjoying those same activities. Our Seniors favorite thing to do is go on field trips! We take them from Atlantic City fun to day trips in Pennsylvania. Our Seniors often visit Hunterdon Hills Playhouse to enjoy a wonderful meal followed by a play. Our Seniors also enjoy the benefit of free transportation to run local errands, such as food shopping, doctors office visits and even to the mall.
Alumni Wanted
An Alumni group is being formed for the The Salvation Army Boys & Girls Club of Ironbound. Interested in joining? Call Zee Oliveira at (973) 344-6222.